We all experience change in our lives. Sometimes change is of our own choosing. For example, if we decide to start a new career path, move house or start a family. At other times, change is imposed upon us, such as a departmental restructure or a new boss at work. Either way, the journey through the process can be unsettling. This module will look at how to handle change by keeping your perspective and accepting that it might be uncomfortable at times. You will also be able to access tools that could enable you to make life a little easier.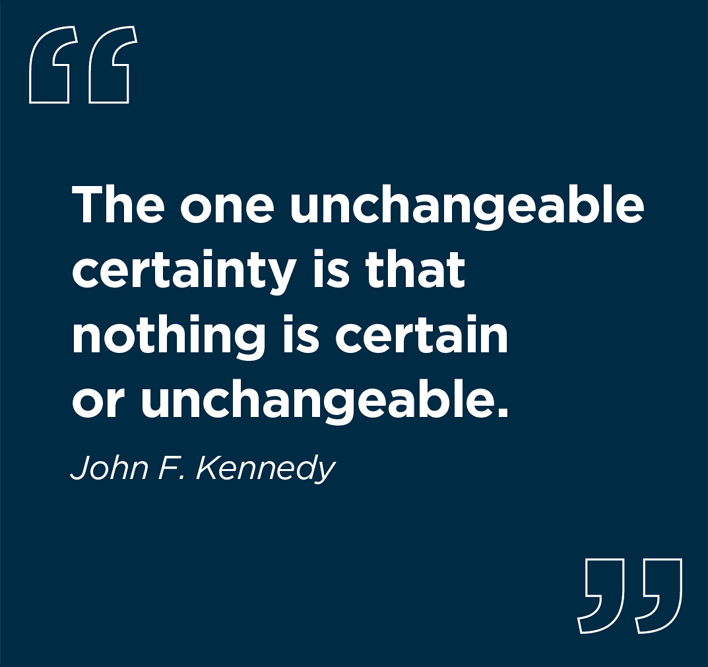 If you look back over your life you have probably already experienced some significant changes. At the time it may have felt overwhelming or difficult and yet you have come through it. When you are in the middle of change, keeping your perspective is critical.
Remember:
You cannot expect to control every event, person, or interaction — don't wreck yourself trying
You cannot plan every detail and expect things to happen that way — they certainly won't
You cannot predict the future, you can only make informed guesses — we are all wrong sometimes
You cannot fully understand each person's responses to change — ever!
It is difficult to fully understand your own response to change
You cannot fully understand the complex social systems of a workplace — the unexpected will usually happen
What's the worst that can happen if...?
The change curve was developed from the work of Dr. Elisabeth Kübler-Ross, who pioneered methods in the support and counselling of personal trauma, grief and grieving, associated with death and dying. She also dramatically improved the understanding and practices in relation to bereavement and hospice care. It was realised that many of life's big events, such as redundancy or divorce, create the same emotional responses as bereavement. As events unfold we naturally go through a number of stages (or transitions) until we are ready to accept the new world. The change curve looks like this: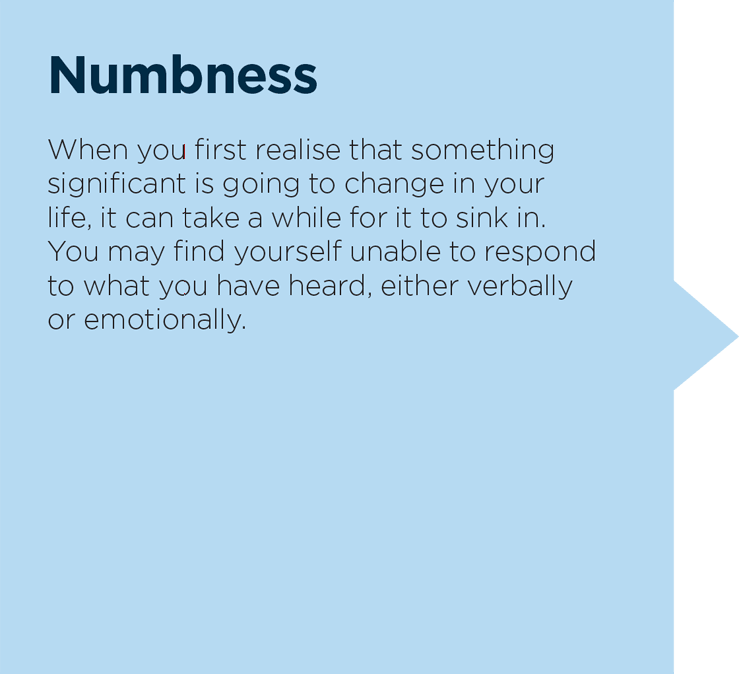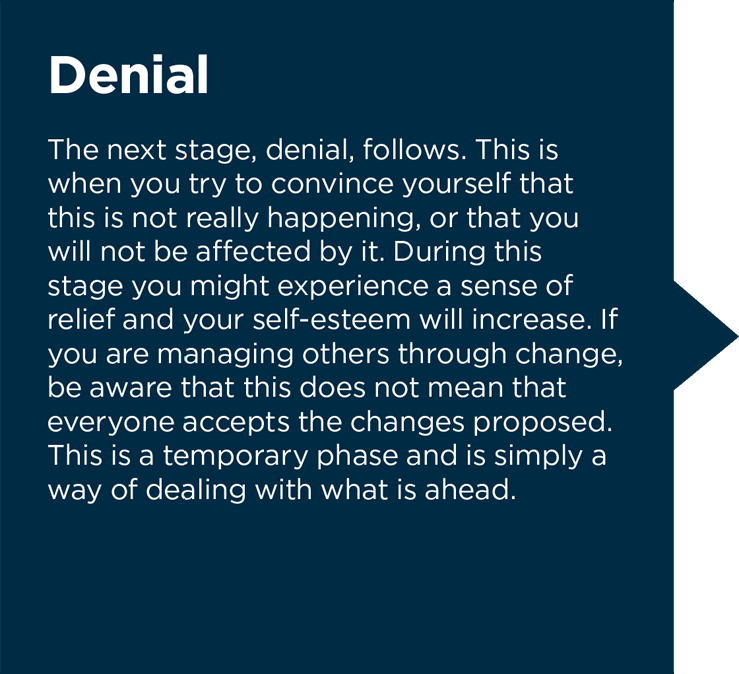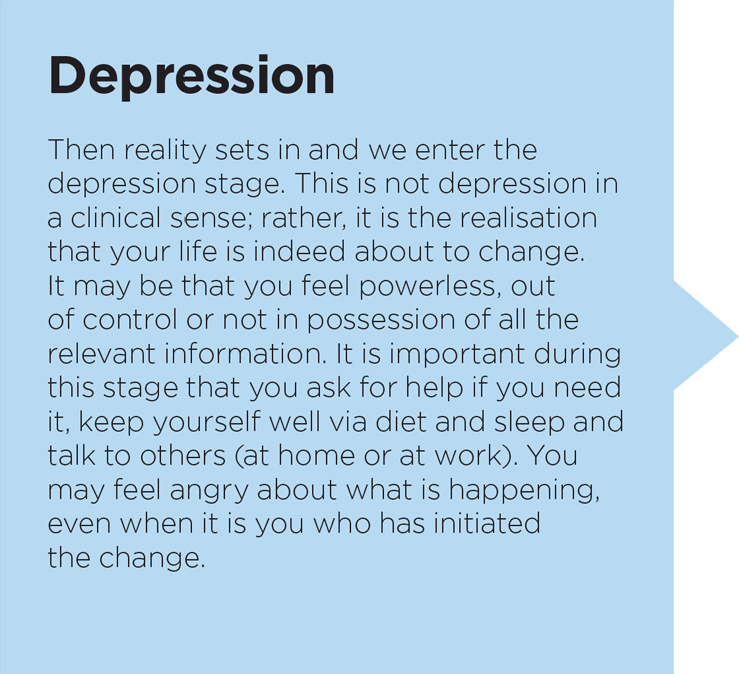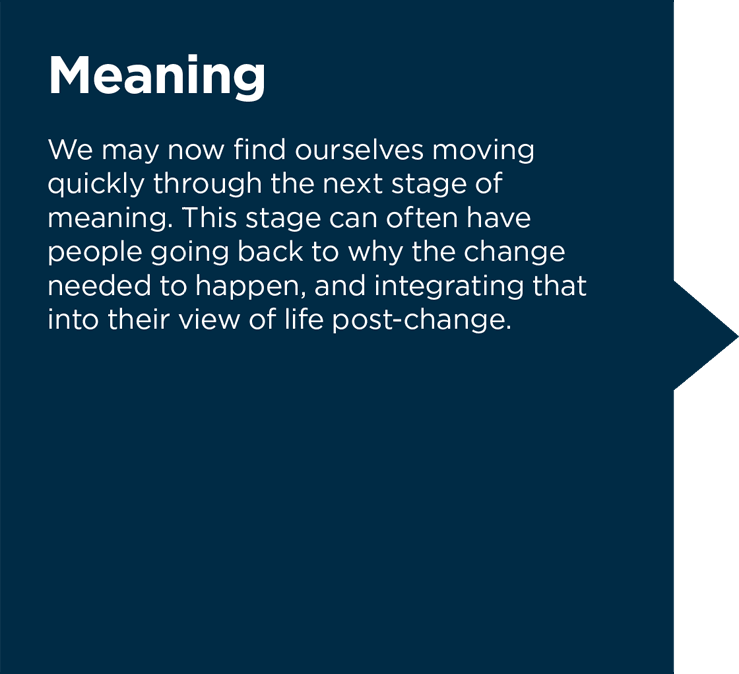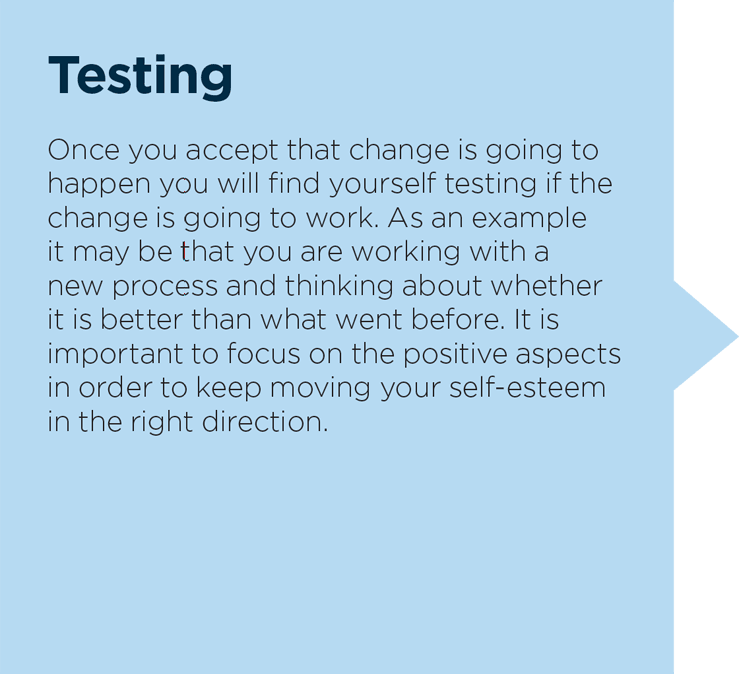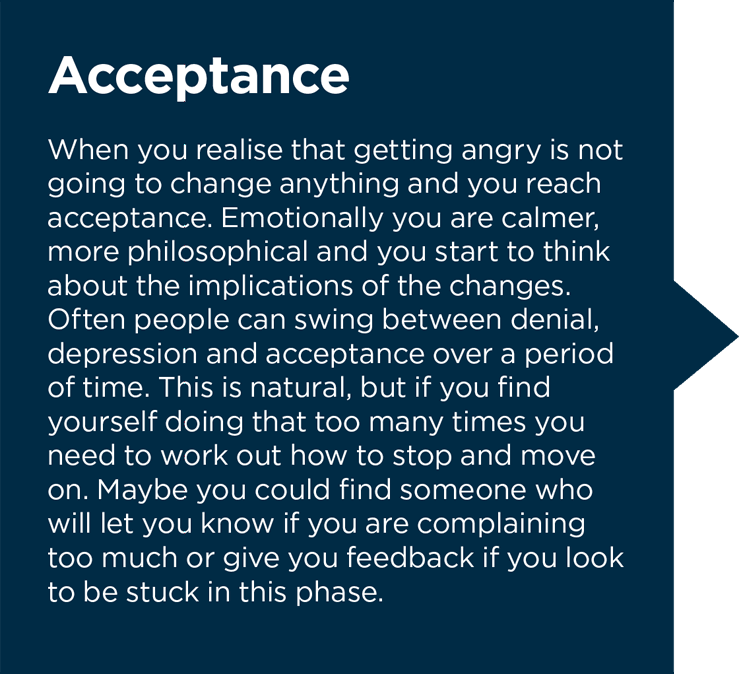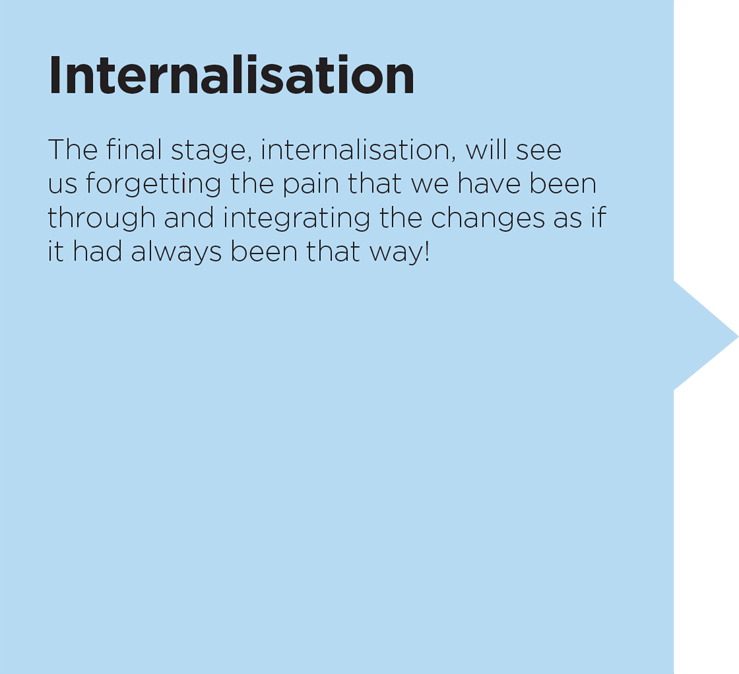 An awareness of this process may help you as you experience change. However, sometimes we all need additional support. There are no clear-cut timescales for this; people proceed through the stages at a different rate depending on how it impacts them and their resilience.
Asking for help is not a sign of weakness; rather, it is an acknowledgement of your own reactions. Speak to someone who can help you. Change does not have to be painful or difficult, and you often control more than you realise.
There are lots of reasons that can make change feel difficult. When we are at work we can blame poor management or a lack of communication. However, sometimes the reason change fails can lie closer to home. These include:
Fears — I might lose my job
Confusion — I want to stay in my comfort zone
Flight — It's better somewhere else
Lack of skill — I won't be able to keep up
Not enough incentive — What's in it for me?
Resentment — What's wrong with the way we do it now?
Difficulty — This is much more difficult
Lack of honesty
Poor clarity
Ineffective leadership
Lack of self-awareness
Do any of these sound familiar? Indeed, are any of them a recurring pattern? If so, think about how you can get yourself out of the pattern. Perhaps there is someone who can support you in the workplace, say your boss or a friend. If these negative thoughts start to feel overwhelming, get some support as soon as possible.
When change is thrust upon us, it is natural to resist it. Usually the underlying reason for this is a fear. Here are some examples:
We avoid taking risks and settle for less in order to avoid the pain of failing. When we have no choice we may feel trapped into having to take risks and do new things which can lead to feelings of anger, bitterness and confusion.
Some of us carry a belief, "If it ain't broke don't fix it". That way we can stick with what is familiar rather than having to try new things. We need to know the future before going forward.
We cannot tolerate disorder, confusion or ambiguity. We dislike complexity. We have an excessive need for order and symmetry.
We give up too soon when faced with obstacles. We try to avoid the pain or discomfort that is often associated with change.
We have helped to create the present, and have too high a stake in it to think that there can be a better future.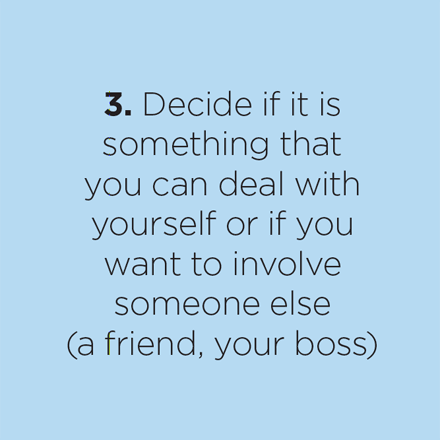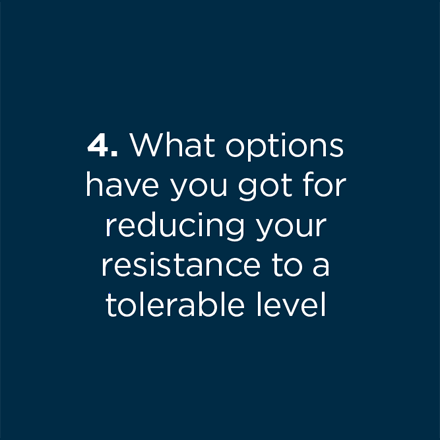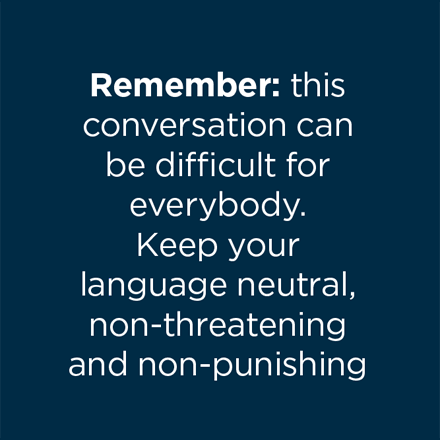 Change comes in different shapes and sizes, and we can assess the type of change based on the magnitude and timescale. When an organisation wants to make small-scale changes quickly this is "Tinkering".
This level of change often comes as a follow-up to a larger change programme as further refinements are made to the original plan. For those affected, the impact is manageable and it does not involve significant personal changes.
When small-scale change is stretched over a longer time period, this is known as "Incremental" change and is often absorbed as part of day-to-day life. It is only when looking back that the scale of the change will be noticed. Often organisations want large-scale change as quickly as possible. This is known as "Quick fix". This can often be as a result of a crisis. For those affected this can be challenging as a lot happens very quickly. There is often little time to think or reflect and it can be tiring for all.
Finally, some organisations seek large-scale change over a long period, often years. This is known as "Transformational" change. This is the type of change that most Police Forces are experiencing as they are meeting funding and Policing challenges. A pattern emerges of functions being reviewed, changed and then reviewed again. Those affected can initially feel unsettled, but as the years progress come to accept this as a way of life.
As you think about your Force, what type of change are you experiencing? How can you deal with that in a way that keeps you healthy and positive?
Humans have the capacity to react differently to the same situation. Our reaction is based on our interpretation of the change and whether we are predisposed to see change positively or negatively. There is no right or wrong in our initial reactions. Some people thrive on ambiguity and always see change as an opportunity to improve their current situation. Others feel threatened by change.
When you are first told that something is changing, especially something as important as your job role, you may find it hard to take in all the information. You may feel confused or overwhelmed the first time you hear it. Don't worry about that, as you should be given opportunities to check your understanding.
After a formal briefing some people will want to "talk it through" with their colleagues; others may wish to digest the information quietly as they "think it through". Make sure you find a way of dealing with the information in a way that works for you. If you are not yet ready to discuss it, let others know. Being pushed into discussing something before you are ready can only add to the stress.
When considering your own reaction to change, think of two aspects:
Do I know what is changing?
Do I fully understand the need for change?
If you do not have the answers to these questions, then it is unlikely that you will be comfortable with the proposed changes. Often, the detail of a review emerges some time after the review itself has been announced. If you are not clear on what is going to change you may find yourself clinging on to your current routine, or over-playing the benefits of your current situation. It is natural to feel unsettled by this; after all, work is important and it affects your home life too. In order to ease this, check that you have all the information that is available to you. It is tempting to start to listen to rumours or gossip. This won't help. Keep establishing the facts and set aside rumours and assumptions.
If you are not clear on the need for change then you may feel angry that you are being put through this uncertainty without good reason. Ask your Manager to explain why the changes are going ahead. Don't be afraid to ask even if you have already attended a briefing, as your Manager will want you to fully understand too. You might want to follow up on what you are told by doing your own research, so that you can establish your own understanding of the need for change.
There is a lot of literature on how to manage change. The truth is it is rarely easy. However, what is consistent in all the literature is that the following should be in place:
If you are managing a team through change you will need to check that these steps are in place or you are unlikely to succeed.
If you are struggling to come to terms with a change in your area of work you may feel that you are losing your perspective. You may find it easier to draw out the thoughts that are troubling you.
Start by writing down why this change is taking place, including identifying the objective, goal and target of the review.
Next, identify all the driving forces for that change. What are the aspects that make this a good idea? Are some aspects more important than others? When you have identified this, draw an arrow under each aspect, and draw the length of the arrow to represent its importance.
For example, arrows like this:
suggest that the corresponding issue is less important than this one:
Once you have done this, think about all the factors that are making you resist the change. Again, rank them in importance and draw arrows to represent your thoughts. This time, the arrows should go in the opposite direction, like this:
Now focus on the resisting forces. Which ones can you do something about? Don't think you have to deal with the biggest ones first. By removing a minor resisting force you will change the equilibrium and move towards the goal and vision. Your final version may look like this: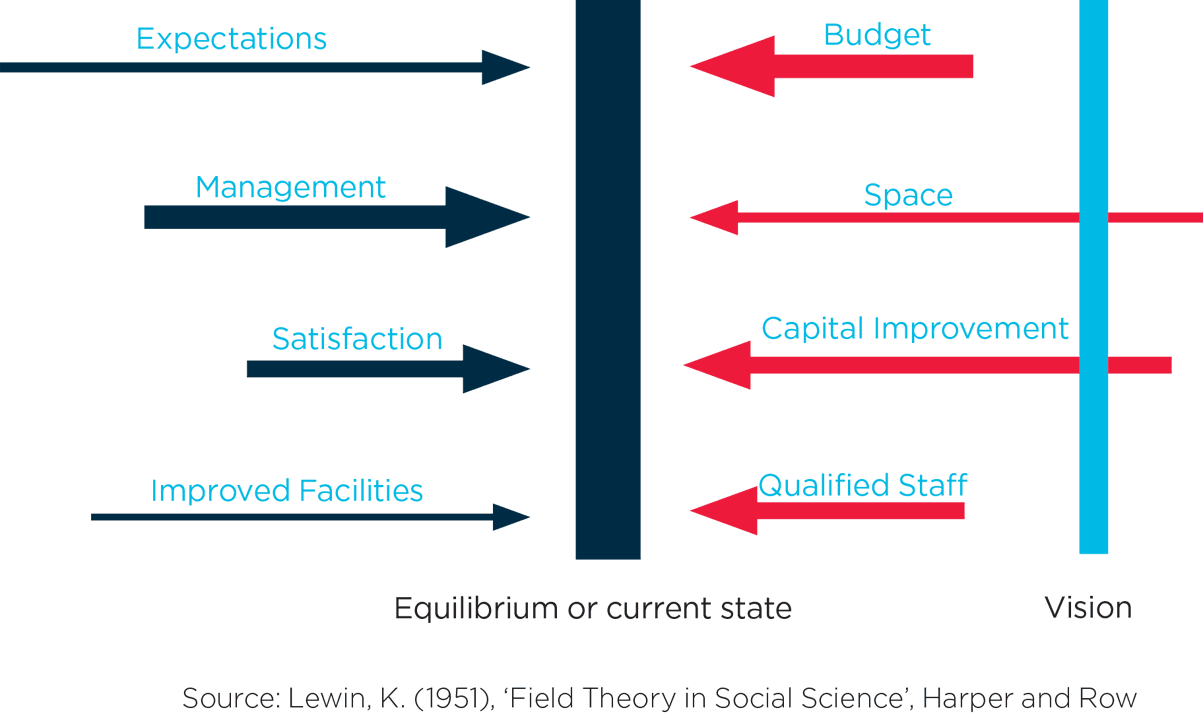 As you eradicate one resisting force move on to the next one until you have dealt with everything that is within your control.
When change is imposed (as it often is at work) we can easily feel like there is nothing we can do to influence it. That is rarely the case. When reflecting on this, consider these four aspects:
What is affecting us that we cannot control at all? A good example of this would be worrying about the weather when you are hosting a barbecue
What can we influence? Notice that this is about what we can influence. Well-Managed Change will give you and your colleagues an opportunity to share your thoughts. Constabularies want to get this right, so it is worth giving some thought as to what you can influence and, just as importantly, how you will do this
What can I influence with help? It may be that you would like to have an input, but need support from others (outside your team)
What can I do? Unsurprisingly, people can sometimes focus on what they can't do. Give yourself some time to think instead about what you can do. You're your own person, so with that in mind look at what your options are for embracing change